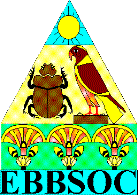 The Egyptian Journal of Biology
Published by Egyptian British Biological Society (EBB Soc)
Editors-in-Chief:
Professor Samy Zalat (Suez Canal University, Egypt)
Dr Francis Gilbert (Nottingham University, UK)
Co-Editors:
Professor Ismail Abdel Nabi (Suez Canal University, Egypt)
Professor Somia Salah El Din El Akkad (Ain Shams University, Egypt)
ISSN 1110-6859


The Egyptian Journal of Biology is now closed to all new submissions

After 16 years, we the Editors-in-Chief (Samy Zalat & Francis Gilbert) have decided to stop, and effectively this means that this journal will cease active publication. We believe passionately in free access for both authors and readers, and this has always been underpinned by our own efforts in our 'spare time'. We set the journal up to encourage young scientists from Egypt and other developing countries in publishing. Our aim was always to get an Impact Factor, but now under the current rules we would have to double our output of papers per issue. This would involve an unacceptable level of time and effort without paid help, which can only come from author charges. Thus reluctantly we have decided that the best course of action is to stop publication. We thank all authors who have trusted us with their papers, and all reviewers who have devoted their time to help safeguard the journal's standards.

Volume 16 will therefore be the last.
Contents:
--- Vol 1 1999
--- Vol 2 2000
--- Vol 3 (Botany) 2001
--- Vol 3 (Zoology) 2001
--- Vol 4 2002
--- Vol 5 2003
--- Vol 6 2004
--- Vol 7 2005
--- Vol 8 2006
--- Vol 9 2007
--- Vol 10 2008
--- Vol 11 2009
--- Vol 12 2010
--- Vol 13 2011
--- Vol 14 2012
--- Vol 15 2013
--- Vol 16 2014

· This is an Open Access journal, free to download: there are no charges of any kind to authors or readers.
· The journal published standard scientific contributions and reviews from all aspects of the biological sciences. A sister journal, the Egyptian Journal of Natural History, published faunistic papers or field-based studies of the natural history of the Egyptian fauna.
· All papers were reviewed by at least one or two Egyptian referees, and then by international referees. The referee/s were chosen by the editors.
· The language of publication is English. Summaries are given in English and Arabic, and may also be given in other languages. In case of non-Arab authors, the editors will prepare the Arabic summary.
---