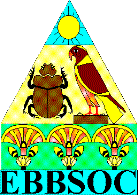 The Egyptian British Biological Society
Objectives

To share scientific knowledge between Egyptian and British academics and their colleagues through exchanges, joint research, meetings, conferences, seminars, workshops etc.
To explore the biological resources of Egyptian habitats through regular expeditions, particularly to the Sinai Peninsula. The aim of these expeditions is to promote knowledge about Egyptian natural history, and to assist and promote habitat conservation.
To promote the establishment of a Natural History Museum for the Egyptian biota.
To produce journals that publish research in the biological sciences and in Egyptian natural history. We currently publish two journals, the Egyptian Journal of Biology, and the Egyptian Journal of Natural History.
To facilitate the flow of new scientific ideas in the biological sciences between specialists from all over Egypt.
---